Infectious agents can enter your body through several channels. What actions should you take to reduce the transmission of infectious disease in your workplace? Follow the suggestions BLR outlines to decrease your risk of infecting yourself and your workplace. Preventative measures do make a difference!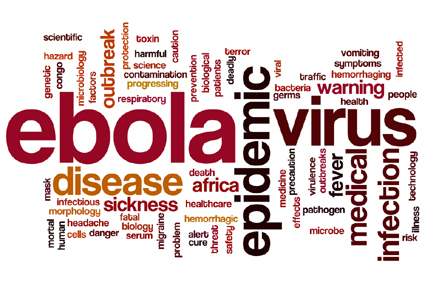 With cases of Ebola happening in the United States and leading the news, employers may be wondering what they can do to prevent the disease in their workplaces. The federal government and some states are issuing guidance to help reduce the chances of transmission of infectious diseases, such as Ebola, from affecting their workers.
Which workplaces are most at risk?
The National Institute for Occupational Safety and Health (NIOSH) has developed targeted Ebola prevention and control recommendations for these categories of employees: healthcare workers, laboratory workers, airline workers, and humanitarian workers.
NIOSH says healthcare workers and airline workers may be at risk if they are exposed to infected people who have the signs and symptoms of Ebola. Laboratory workers and other healthcare workers may be at risk if they collect or handle infectious specimens. They are also at risk if they are directly exposed to the blood or body fluids of a patient with Ebola or objects (such as needles) that have been contaminated with infected body fluids.
Additional categories of workers addressed on the NIOSH Ebola website include transportation workers, funeral and mortuary workers, and—as in Dallas—first responders such as emergency medical technicians, police officers, and firefighters.
In other workplaces, the main concern would be exposure to someone who is contagious with the disease, particularly someone who has recently traveled from an area of known contagion. So hospitality companies and those with employees who travel internationally are also at greater risk.
What are the responsibilities of employers?
OSHA. The federal Occupational Safety and Health Administration (OSHA) counsels employers that workers have a right to a safe workplace under federal under the Occupational Safety and Health Act. This law requires employers to provide their employees with working conditions that are free of known dangers and to inform workers of new hazards.
ADA. The Americans with Disabilities Act (ADA) requires employers to provide reasonable accommodation for an employee's disability. Under ADA's regulations, a temporary impairment that lasts, or is expected to last, fewer than 6 months can be substantially limiting. With that in mind, it is likely that Ebola will qualify as a disability. As a reasonable accommodation, employers should provide an affected employee with a leave of absence.
It is important that employers keep in mind the ADA's prohibition on disability-related inquiries. Employers may ask employees about a medical condition only if the inquiry is job related and consistent with business necessity.
So if an employee has had known contact with Ebola and is showing symptoms of the disease, an employer may make inquiries or require a medical exam because the employee's medical condition may pose a direct threat to the health of other employees. A direct threat means a significant risk of substantial harm and must be based on reasonable medical judgment that relies on the most current medical knowledge and best available objective evidence.
A note of caution: an employer's inquiries may not be based solely on assumptions or suspicions about an employee's exposure to Ebola.
As required by the ADA, employers must keep an employee's medical information confidential and should make every effort to keep the identity of an employee infected with Ebola confidential while taking necessary steps to prevent the spread of the disease. The identities of any employees who have symptoms or who may have been exposed to the disease should also be kept confidential.
What can employers do?
OSHA has an Ebola guidance webpage that specifically addresses Ebola, as well as a webpage with information directed at healthcare workers. The agency also has a webpage devoted to viral hemorrhagic fever, of which Ebola is one. The government also has a pandemic emergency planning checklist for businesses that, while addressing influenza, is also useful in planning for other contagious diseases.
The federal Department of Health and Human Services and Centers for Disease Control has issued a Health Care Facility Preparedness Checklist for Ebola Virus Disease. While it is aimed primarily at healthcare facilities, the suggestions would be of help to other employers.
Even companies at little risk should address their emergency plans, especially those addressing discharges of bloodborne pathogens and other bodily fluids, which can occur in any workplace. It is prudent to also review your policies and plans regarding emergency communication with employees and facility closings and quarantines.
Note that preventative measures do not have to be elaborate; encouraging workers to adopt proper hand hygiene and providing the supplies needed is the best front line defense an employer can take. [See Prevent spread of new viruses through hygiene ] Also, work with your facilities department or cleaning contractor to ensure that common-use surfaces are cleaned thoroughly and often.