With a large portion of the 2015 Department of Labor (DOL) budget designated to combat the misclassification of employees, and independent contractors sitting at the top of the list, employers would be wise to review their employment relationships. BLR summarizes the issue in this article.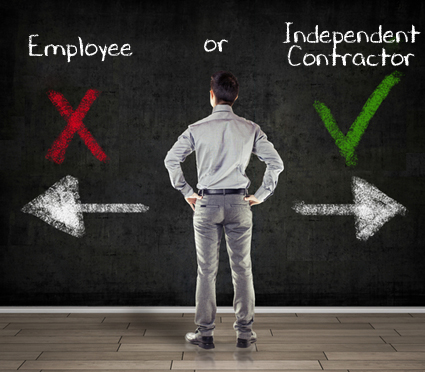 Florida and Wisconsin employers who utilize the services of an independent contractor should take heed. They have become the 19th and 20th states to sign joint cooperation and enforcement agreements with the United States Department of Labor (DOL).
Indeed, both states have signed memorandums of understanding with the DOL where they agree to cooperate with the agency in their enforcement actions to catch and deter the misclassification of employees as independent contractors. The other states that have already signed a memorandum of understanding are Alabama, California, Colorado, Connecticut, Hawaii, Illinois, Iowa, Louisiana, Maryland, Massachusetts, Minnesota, Missouri, Montana, New Hampshire, New York, Utah, Washington, and Wyoming.
This news comes in the wake of the DOL's award of $10.2 million to 19 different states to implement and improve misclassification detection and enforcement in unemployment insurance programs. The money will be utilized for various improvements and initiatives, including enhanced audit programs and employer education initiatives.
What's the big deal?
It is certainly understandable why many companies prefer to utilize independent contractors over hiring employees. The significant benefits of this relationship include eliminating the need to pay payroll taxes, obtain workers' compensation insurance, as well as meet other responsibilities. Furthermore, independent contractors do not receive overtime or double time pay, meal breaks, or rest breaks.
Unfortunately many employers operate under the erroneous assumption that an independent contractor classification is easily defensible. They may not understand that the failure to properly classify can subject an employer to administrative enforcement actions, civil penalties, fines, unpaid wages, class action and representative action lawsuits, and the assessment of back taxes and premium payments and related penalties.
As if that weren't enough, attorneys are highly motivated to pursue misclassification lawsuits in states that allow them to recover attorney's fees, increasing the financial headaches for employers!
DOL knocking on your door?
Given the scrutiny by the DOL, employers who rely on independent contractors are wise to review their employment relationships. Remember, independent contractor misclassification has been on top of the DOL's list of priorities, with the 2015 fiscal year budget specifically allocating $14 million to be used to combat misclassification.
In fact, in a December 31, 2014 Wall Street Journal article, the DOL's chief enforcer identified misclassification of independent contractors as one of its biggest enforcement issues. In addition to the coordinated information-sharing with various states, the DOL has also committed to working closely with the U.S. Department of the Treasury to conduct targeted wage and hour investigations in industries with the "most substantial" independent contractor abuses.
Avoiding misclassification woes
Although misclassifying employees can have significant economic consequences, it is possible to avoid liability and lawfully classify a service provider as an independent contractor. There are a number of slightly different tests used by the courts and various federal agencies (such as the DOL and the Internal Revenue Service) to determine whether a worker is a genuine independent contractor. While the tests are all slightly different, they do contain some similarities that employers should keep in mind when considering these relationships.
First, it is important to note that a common factor is that an independent contractor agreement, on its own, will not establish that someone is an independent contractor. Employers should ensure that they do not fall into this common trap. Simply slapping an "independent contractor" label on a worker's name badge is insufficient, and drafting a contract makes it no more official.
This ties into a second factor that the tests have in common—they all focus on the degree of control that the employer has over the worker. If the employer has a significant level of control over the individual and how he or she performs the services, then that individual will most likely be considered to be an employee. On the other hand, if the worker has a great deal of autonomy, then the individual would likely qualify as an independent contractor.
Basically, an employee is someone working for wages, only for the employer, and doing what, where, and how the employer says. Conversely, an independent contractor does a one-time job for a fee on his own schedule with his own tools, in his own way.
Accordingly, if the employer sets the work schedule and work hours, this will weigh in favor of the employer-employee relationship. Also, an employer-employee relationship is more likely if the service can be provided offsite, but the service provider is required to work from the employer's facility.
Additionally, other common factors that courts and agencies consider to determine the amount of control an employer exerts on a worker are:
whether the employer provides all of the tools and materials,
whether the worker is at the site for a short-term project or remains over a long period of time,
whether the worker provides a service that is normally provided by the employer,
whether the worker provides the same services elsewhere (as opposed to exclusively to the employer),
whether the worker receives any training, and
whether it is possible for the worker to lose money on the project.
Bottom line
Of course, the determination of employment status is made on a case-by-case basis, taking into account all relevant facts and circumstances of a specific case. Some factors may indicate that the worker is an employee, while others may suggest that the worker is an independent contractor. Further, the list of questions regarding employer control is not exhaustive.
As a result, businesses should carefully consider a worker's status before making a classification and routinely review their independent contractor arrangements to ensure compliance with the law. By working with competent legal counsel, companies can reduce their exposure to the risks associated with incorrectly designating employees as independent contractors.