Are you ready? In just 30 days, August 1, 2016, OSHA's new fee adjustments become effective. For the first time in over 25 years, OSHA has increased monetary penalties for standards violations. Those small fines that many businesses brushed off as simply a cost of doing business when compared to other costs and risks are a thing of the past. With substantial penalty increases as much as 78.16 percent this year alone and an open door to adjust fines annually to keep pace with inflation, now is a great time for employers to review safety programs and update employee training programs. JD Supra, John Martin, outlines the increases below.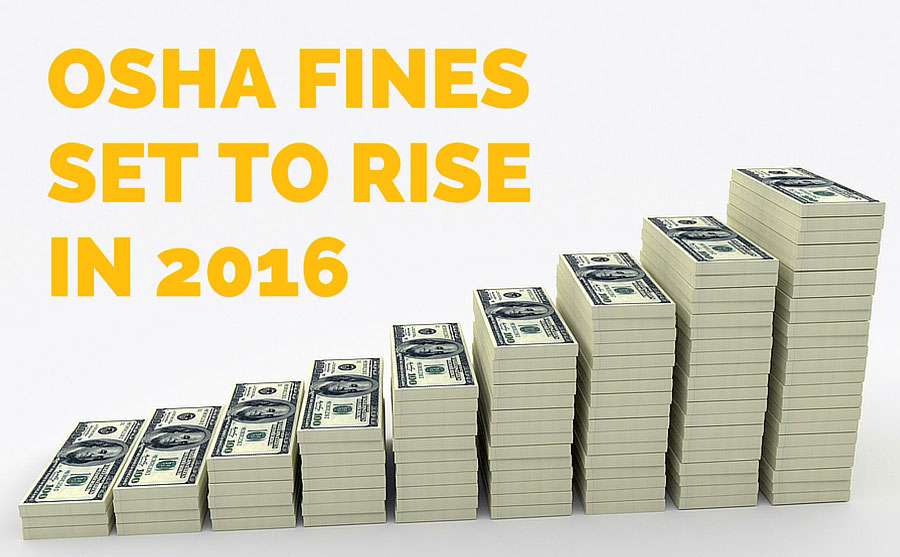 On June 30, 2016, the U.S. Department of Labor (DOL) announced its interim final rule on Federal Civil Penalties Inflation Adjustment Act Catch-Up Adjustments. The rule was formally published in the Federal Register on July 1.
The increase is the result of the Bipartisan Budget Act of 2015, signed into law on November 2, 2015. The Bipartisan Budget Act was the consummation of a deal reached in Congress to avoid a default on the nation's debt. Surprisingly, the bill also contained the Inflation Adjustment Act, a provision that allowed federal agencies to annually adjust their civil penalties for inflation beginning with a one-time adjustment this year to catch up from the last time the agency's civil penalties were modified.
For the Occupational Safety and Health Administration (OSHA), the last time Congress increased the agency's civil penalties was 1990. Under the interim rule, the maximum penalties for workplace safety violations issued by OSHA will spike by 78.16 percent, effective August 1, 2016, as follows:
Other-than-Serious violation: from $7,000 to $12,471;
Serious violation: from $7,000 to $12,471;
Repeat violation: from $70,000 to $124,709;
Willful violation: from $70,000 to $124,709;
Failure-to-Abate violation: from $7,000 to $12,471 per day; and
Violation of a posting requirement: from $7,000 to $12,471.
The 78.16 percent figure represents inflation from October 1990 to October 2015. This increase closely tracks the Consumer Price Index, as we predicted last year.
State Plan States must also adopt these increases, according to the DOL. The federal Occupational Safety and Health Act (OSH Act) requires State Plans to be at least "as effective as" federal OSHA. What constitutes "as effective as," however, is the subject of ongoing debate between OSHA and its state counterparts.
Limited Retroactivity
According to the DOL, the new civil penalty amounts will apply "only to civil penalties assessed after August 1, 2016, whose associated violations occurred after November 2, 2015, the date of enactment of the Inflation Adjustment Act." In other words, for pending inspections that occurred before August 1, 2016, OSHA may wait until after August 1 to issue any citations and apply the higher penalty caps to those inspections.
Request for Comments
The interim final rule issued without a notice-and-comment period, because "the Inflation Adjustment Act provides a clear formula for adjustment of the civil penalties, leaving little room for discretion." Nevertheless, the DOL invited the public to comment "on any issues" in the interim final rule. The DOL is accepting public comments until August 15, which may be submitted through regulations.gov. It is doubtful that any public comments will have any impact on the interim final rule.
An Ex Post Facto Problem?
The DOL asserts that the Inflation Adjustment Act provides the authority to do this. But Article I, Section 9 of the U.S. Constitution states that "No Bill of Attainder or ex post facto Law shall be passed." The Supreme Court of the United States has long defined an "ex post facto Law" as "one which imposes a punishment for an act which was not punishable at the time it was committed, or a punishment in addition to that then prescribed." Administrative civil penalties, according to the Supreme Court of the United States in Gabelli v. Securities and Exchange Commission, "are intended to punish, and label defendants wrongdoers." Neither the DOL nor Congress can override a provision of the United States Constitution.
Practical Impact Remains to Be Seen
Regardless of whether the agency chooses to retroactively apply the new penalty provisions, OSHA will rake in a record amount of civil penalties over the 2017 fiscal year thanks to the Inflation Adjustment Act. Whether the higher penalty amounts will discourage bad actors from regarding OSHA citations as a cost of doing business remains to be seen. The agency no doubt welcomes these provisions, as it has been very open about its desire to issue six-or-seven figure penalties as the Environmental Protection Agency can for violations of the Clean Water Act or Clean Air Act. Higher penalty amounts may also lead to an increase in the number of cases contested and litigated through the independent Occupational Safety and Health Review Commission.
In Chapter 11 of the new Occupational Safety and Health Law Handbook, 3rd ed. (Bernan Press, 2016), John F. Martin provides employers with a plain-English breakdown of OSHA citations and the factors OSHA considers in calculating a proposed penalty.