A slip of the tongue, an inappropriate remark, the wrong job assignment… supervisors and managers make mistakes. When the mistakes involves FMLA, it can cost your company significant legal fees and land you in court. Employers must train and retrain their management teams on FMLA and the employer's own policy so mistakes are not made and employees receive full and correct benefit of the law. BLR, Kate McGovern Tornone, outlines the high price one employer paid for a slip of a tongue.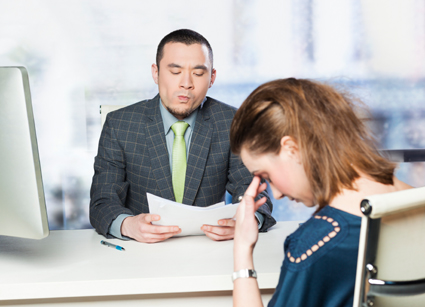 A manager cost her company $500,000 when she told an employee taking intermittent Family and Medical Leave Act (FMLA) leave to "get it together," and asked the employee to take a continuous leave.
A jury agreed with Amanda Perry, an office coordinator for Covenant Medical Center, Inc., that these actions, in conjunction with adverse actions taken by the employer after Perry returned from leave, violated the FMLA.
Perry had requested—and been approved for—intermittent FMLA leave to deal with symptoms related to psychiatric impairments.
After she took several days of leave, Perry's supervisor said she had spoken with human resources and was concerned about the time Perry was taking off. She told Perry to "get it together" and take a continuous leave. Perry complied and took several weeks off of work in a row.
Upon Perry's return, the supervisor informed her that she had been reassigned. A few days later, she was disciplined for shortcomings that, according to Perry's lawsuit, didn't exist. After receiving several more disciplinary actions, Perry was fired.
Perry sued, alleging that her employer retaliated against her for exercising her FMLA rights and discriminated against her based on her disability, in violation of the Michigan Persons with Disabilities Civil Rights Act. She had always received positive performance reviews and had never been disciplined until she started taking medical leave, she claimed.
The employer disputed the claims but a jury agreed with Perry and on June 17 awarded her $30,000 in lost wages, $445,000 to compensate her for future damages, and $25,000 for emotional distress (Perry v. Covenant Medical Center, Inc., No. 1:15-cv-11040 (E.D. Mich. June 17, 2016)).
Training managers on employment law rights and responsibilities can limit an employer's liability. During FMLA training, managers should learn to recognize requests for protected leave and direct workers to HR for more information. Training also should cover the law's prohibition on interference and retaliation, its overlap with Americans with Disabilities Act requirements, and reinstatement issues.